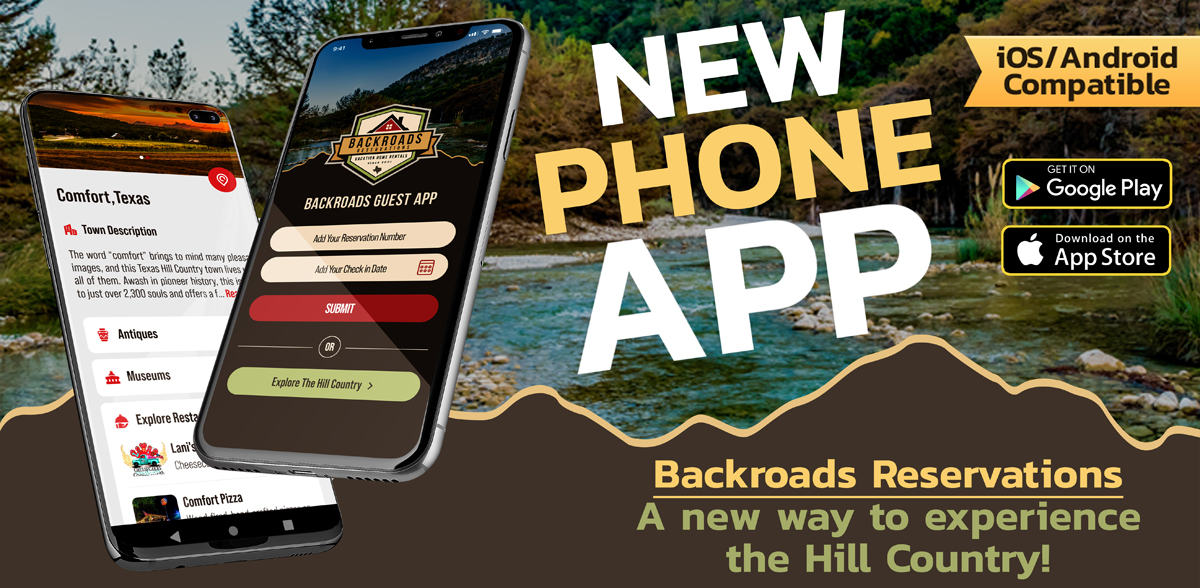 Property Type : Guest House
Property Description
Looking to visit the Cowboy Capital of the World? It just so happens that we have the perfect cozy and rustic cabin rental in Bandera for you! Not only is the Bandera Stronghold Red Cloud Cabin close to Bandera, but it's only minutes from tubing and fishing on the Medina River, and the pristine prairie beauty of the Hill Country State Natural Area. Closer by is a beautiful creek that's right in your backyard! This is a gorgeous romantic hideaway, right in the heart of the Texas Hill Country.
The ideal mix of city and country awaits you here; whether you want to kick up your heels, shop, or eat in Bandera, or you'd just like to dip your toes or do some catch-and-release fishing on your creekside property, the Red Cloud Cabin is perfect for your weekend adventure! The guest house is situated on an elevation that gives you amazing views of the surrounding Hill Country, which makes it a great spot for wildlife viewing and stargazing. Miles and miles of country roads wrap around the area, which is known as prime motorcycle touring country.
Out back is a shaded deck, highlighted by a bubbling hot tub that overlooks the creek. Floats are provided by the water, so you can relax on its surface in style. This is an amazing location for open-air conversation and cuisine, especially with a fire pit, swing, and charcoal grill at your disposal. If you have a well-behaved pet you'd like to bring along, that's great; just don't leave them unattended. Also complimentary for your outdoor use are hot tub/swimming towels and biker rags. Smokers are welcome, but keep it outside, please.
The interior features hardwood floors and rustic country accents, and there's a full bathroom with a tub and shower combo. A queen-sized bed and an optional roll-away offer comfy sleeping arrangements for up to three people, and all bed and bath linens are provided. The kitchen is well-appointed with appliances and cooking/serving ware, and complimentary coffees and teas are yours to enjoy. The cabin also features a TV and DVD player, radio and CD player, and cell phone service is provided by AT&T. Finally, central air and heat assure your stay will be a comfortable one.
The perfect spot for a romantic getaway in the stunning Texas Hill Country could be as close as a phone call away! Get a hold of us here at Backroads Reservations, and we'll use our expertise and Texas hospitality to make it happen.
Cabin Info
========
Queen bed
Extra roll-away bed available for 3rd guest
Fully equipped kitchen with range top, oven, refrigerator, ground coffee maker, microwave, no dishwasher
Pots, pans, cutlery, plates and glasses supplied
Bath with tub and shower combination
Amenities
========
Creek side view
Deck with hot tub overlooking creek
Coffee and tea provided
Regular coffee maker
Bed and bath linens, hot tub/swimming towels and biker rags supplied
TV monitor with DVD player
Radio/CD player
Central air, eat and ceiling fans
Catch and release fishing
Floats and lawn chairs creek side (inquire with host)
Birding and wildlife viewing
Charcoal grill
No WIFI but good cell service
Rates & Details
========
Children Allowed (with close supervision)
Extra guest fee is $20, per day, after 2 guests
Extra roll-away bed available for 3rd guest
Pet fee is $15 per day, per pet
Dogs may not be left unattended at any time
Smoking outside only
No discharging of firearms, fireworks or ATVs permitted
Backroads reserves the right to increase the nightly rate and fees within 5 days of all local event announcements
Event and holiday weekends may be have a three night minimum
Hill Country river and lake water levels vary depending on rain
Approximate distance to the following sites:
========
Frio River: 60 miles
Medina River: 5 miles
Guadalupe River: 30 miles
Lost Maples State Natural Area: 45 miles
Garner State Park: 55 miles
Hill Country State Natural Area: 15 miles
Bandera
========
Welcome to the Cowboy Capital of the World! With museums, rodeos, horseback riding, motorcycle rallies, and boot-scootin' live music venues, Bandera's got it all for fans of the Hill Country and the Wild West! Celebrate this uniquely American heritage, and take some time for a trip down the scenic Medina River.
Backroads Reservations
Bandera, Texas
Copyright 2022 - Backroads Reservations in Bandera, Texas
Ask us at Backroads Reservations about our Hill Country Travel Guide, the best resource for traveling to the Hill Country! Find thoroughly-researched and up-to-date information about dozens of towns, local businesses, events, parks, scenic drives, swimming holes and much more. Now on the web and mobile!
Amenities
Guest House

Hairdryer

Heating

Linens

Towels

Air Conditioning

Queen Size Bed

Bandera

CD Player

Cell Coverage

Central Air and Heat

Charcoal Grill

Fully-equipped Kitchen

Fridge

Kitchen

Microwave

Stove

Toaster

Spices

Coffee Pot

Bird Watching

Photography

Scenic Drives

Sight Seeing

Fishing

Fishing Freshwater

Swimming

River

Waterfront

Children Welcome

Budget

Romantic

Spa
What guests are saying...
The Stronghold was absolutely relaxing. We were able to slept late, cooked full meals, fished and toured the surrounding area. Tricia was so kind and accommodating. She answered our questions and addressed our concerns. Our favorite thing to do was sit in the private hot tub and star gaze late into the night. This place is perfect for couples. We will be back.
My husband and I had a great time staying at the stronghold. We hiked the natural area 25 min away and then cooled off in the creek in the back. We were able to disconnect from society because there truly is no wifi or cell reception. Our dogs loved it there. First water trip for one of the pups and he started getting his swimming legs under him. It was a great place to play with them and get much needed R&R.
Tricia and Jon, We cannot thank you enough for allowing us to book with you. It was the perfect getaway for my husband and I. We enjoyed everything about it. The cabin was AMAZINGLY clean, y'all were the perfect host/hostess. We enjoyed the conversations, especially with Jon in the mornings. Although, you gave us ALL the privacy we wanted, we just couldn't resist our morning talks with Jon. The water was refreshing. The cabin was comfortable. The scenery was beautiful and the quiet was amazing! Thank you again! I highly recommend staying if you are in need of some quiet and close enough to surrounding towns to get out and explore, too!
This was a great little cabin right by the creek. The hot tub was relaxing and the creek was nice. We made a fire in the fire pit and cooked a steak. It was a very relaxing weekend and out two dogs enjoyed the space. The cabin is perfect for 2-3 people. Patricia was awesome, very accommodating. A very heavy storm came through the morning that we were leaving that flooded the creek. Patricia was really sweet and kept us informed with storm updates. She even offered to let us stay in the cabin as long as we wanted until the storm died down. We will def. be back!
This cabin was perfect for 2 people and our fur baby. All the necessary details were covered and you didn't want for a thing. The quiet and calm of this property allow you to just breathe and unwind. Loved the fall foliage and the multitude of wildlife. Used the hot tub and the fire pit and enjoyed the "camping" experience. Will be back for sure -- thinking summer time.
We enjoyed our stay for our anniversary! Lovely quiet little spot on the deep creek. Cabin was very clean and well stocked. Be sure to check the fridge before you go to the store, as there are lots of things there! Owners were very nice and accommodating. The location is perfect to travel all over the hill country. Most little towns are only 30 mins away, plus many state parks. Hot tub was perfect for bird watching!
View More...