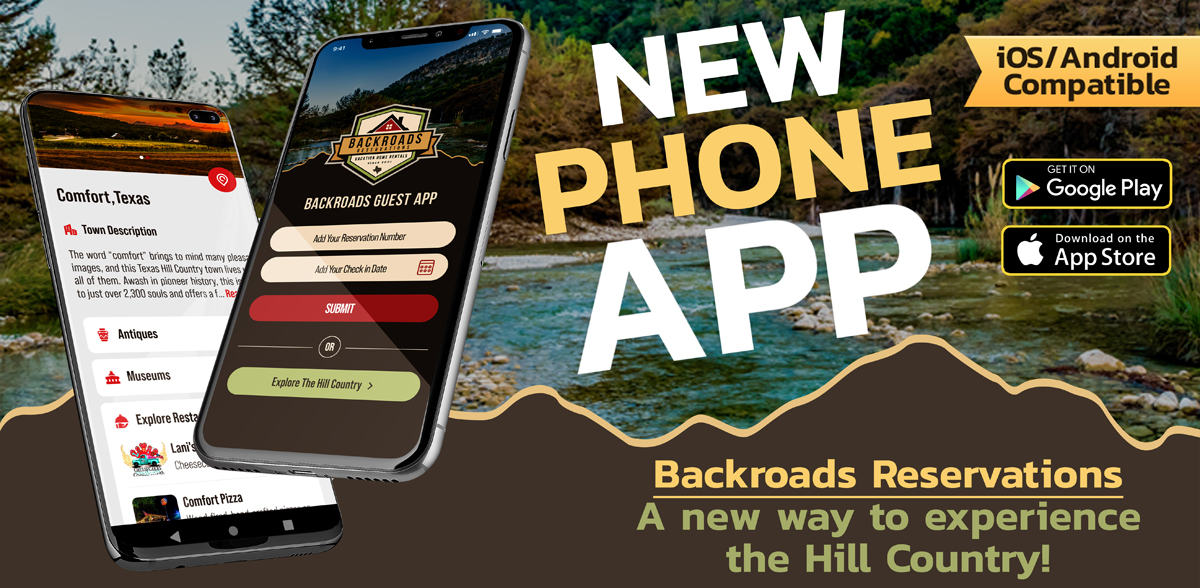 Property Type : Resort
Property Description
**Instant booking is not available for this property. You must call us or send a request to check availability prior to booking**
The cowboy-themed Hill Country town of Bandera ranks high on most lists of popular Texas destinations. If your next holiday or weekend getaway includes a large group, the Bandera Tin Star properties could be the perfect place for you to consider! These stellar Bandera vacation rentals are just a few miles from The Cowboy Capital of the World, but also offer a serene rural setting. These clean and comfortable rooms have lots of Texas personality-and they're available at budget-friendly rates.
Bandera Tin Star features three rooms in an extended bunkhouse-style vacation cabin, and between the three of them, there's space to comfortably accommodate up to 12 people-making it the perfect place to stay in the Cowboy Capital! Whether you bunk up in the Wrangler Room, the Cabaret Room, or the Forge Room, you'll find relaxing and comfortable amenities inside and out-and all the attractions of Bandera will be practically at your back door, as it's only three miles down the road from here. So, after having a great time in Bandera and enjoying everything that incredible town has to offer, you can reflect on your day and unwind in exceptional comfort. It's an outstanding and unique Hill Country getaway!
Just behind the waterside cabin here is a peaceful creek. Feel free to dip your toes in its cool waters, or take a breath of fresh air and relax. The scenic grounds are perfect for birdwatching too and wildlife are often spotted in the area-they like taking advantage of the creek setting, too! Don't feel you have to plan a schedule of activities around the creek, of course; if you'd like to just settle on its shores and relax to the soothing sounds of its waters, that's a perfect way to enjoy it, too! This is a pet-friendly vacation home, but we do ask that they be well-behaved (no dogs that are prone to barking, for example), and they must be crated when left alone for longer periods of time.
The roads that wind through the countryside around the Bandera Tin Star cabin offer impressive views of the surrounding Texas Hill Country, and we highly recommend a tour through the area by either car or motorcycle. If you do bring your bikes along, there's parking for those, so they can be kept out of the elements.
The front of the cabin is lined with a shaded porch, with plenty of patio furniture and picnic tables provided. Speaking of picnics, there's a fire pit, charcoal grill, and chimenea (a front-loading fireplace with a chimney) for your cooking needs, whether you'd like to just roast a few marshmallows or s'mores, or go all-out and grill up a full and hearty meal, but please make sure to bring some firewood! The fire pit's great for socializing, too-and be sure to gaze skyward on clear nights for a glance of those fabled Texas stars!
When you rent all three rooms at Bandera Tin Star at once, it creates an atmosphere for the perfect family gathering spot! And the whole family's welcome, too-this is a kid-friendly rental. The individual rooms here are named after famous nightlife venues in nearby Bandera (Wrangler, Cabaret, and Forge), and all of them feature decor that's reminiscent of the famous cowboy days of old. Even the name "Tin Star" itself evokes images of the sheriffs, marshals, and Texas Rangers who reined in the lawless elements of the Old Wild West! What's great about the setup here is if you're part of a larger gathering, the individual rooms still allow the privacy that's ideal for a romantic Hill Country getaway! Warm and ample lighting and hardwood floors create a welcoming aura the minute you step inside. It's not just a place to stay; it's a piece of American cowboy history!
Every vacation, no matter how exciting, must include rest. The three rooms at Tin Star provide comfortable sleeping accommodations for up to 12 people, as follows:
Wrangler Room: two king-sized beds, sleeping up to four
Cabaret Room: two queen-sized beds, sleeping up to four
Forge Room: two queen-sized beds, sleeping up to four
All three rooms at the cabin feature a dining/seating area with a table, and a cozy kitchenette with a small fridge, microwave, and coffee machine. To get your day going, free coffee is also supplied! The full baths are decked out with a tub and shower combo. Your interior amenities are rounded out by Wifi service and air conditioning, so your stay is comfortable no matter what time of year you visit us.
Cabaret Room
=========
Two Queen beds
Seating area with microwave, mini fridge and regular coffee maker
Bath with tub and shower combo
Wi-Fi
Air conditioning
Forge Room
=========
Two Queen beds
Seating area with microwave, mini fridge and regular coffee maker
Bath with tub and shower combo
Wi-Fi
Air conditioning
Wrangler Room
=========
Two King beds
Seating area with microwave, mini fridge and regular coffee maker
Bath with tub and shower combo
Wi-Fi
Air conditioning
Amenities
=========
Coffee provided
Covered bike parking
Outdoor charcoal grill provided
Fire Pit (you must bring your own firewood)
Wildlife Viewing
Beautiful Bandera creek on the property
Rates and Details
==============
Children Allowed
Pets considered and must be crated when left alone. Barking dogs are not permitted
No smoking in the room. $200 fee if the room is smoked in
Pet fee is $20 per pet
Extra guest fee is $10, per day, after 2 guests
No discharging of firearms, fireworks or ATVs allowed
Hill Country river and lake water levels vary depending on rain
Approximate mileage to the following sites:
================================
Frio River: 55
Medina River: immediate access
Guadalupe River: 25
Lost Maples State Natural Area: 35
Garner State Park: 50
Hill Country State Natural Area: 15
Amenities
Hairdryer

Internet

Heating

Linens

Towels

Air Conditioning

Free Parking

Queen Size Bed

Bandera

Cell Coverage

Charcoal Grill

Wi-Fi

Restaurants

Fridge

Microwave

Coffee Pot

Photography

Scenic Drives

Shopping

Walking

Kayaking

Waterfront

Children Welcome

Smoking Not Allowed

Wheelchair Inaccessible

Budget