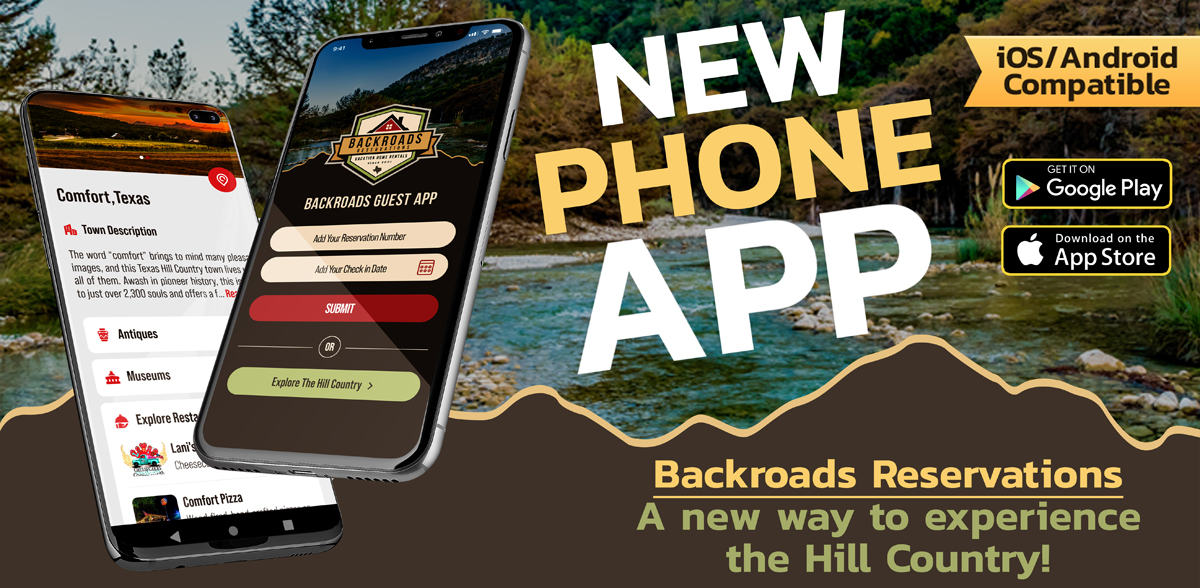 Property Type : Bed And Breakfast | Guest House
Property Description
For your next getaway, check out this comfortable bed and breakfast rental just north of Bandera! You'll enjoy a hearty Texas-sized breakfast each morning at the Texan Cabin at the Double U Barr Ranch, all at a peaceful creekside setting in the beautiful Hill Country. At your disposal will be the great outdoors on this 42-acre working ranch, with the nightlife, shops and attractions of the Cowboy Capital of the World just down the road.
When you get away from it all, do you want a noisy urban motel surrounded by strangers, or a unique bed and breakfast in a peaceful creekside setting? This kid-friendly cabin is situated on a spacious 42-acre cattle and horse ranch, and a nearby creek provides cool and relaxing water activities for everyone. The choice is yours, of course: fight the crowds, or kick back in the splendor of the beautiful Hill Country.
A cool creek near the Texan Cabin can be used for tubing, catch-and-release fishing, swimming, wildlife watching, or just some recharging moments. A paddle boat is also available for a calming trip on the creek! Numerous pecan trees on the property not only provide shade, but serve as perches for hundreds of local birds. There's a shaded front porch-furnished with rocking chairs-and a barbecue grill and fire pit for socializing in the great outdoors. The hilltop vistas nearby are perfect for picture taking, and the great big Texas skies at night set the stage for stargazing. Creek flow and depth are seasonal, so check for this information when you book.
With a queen-sized bed and two twin beds, the Texan Cabin comfortably sleeps up to four. Golden paneling gives the interior a welcoming glow, and comfort is assured with box heating and air conditioning. Bed and bath linens are included here, and the bathroom is furnished with a step-in shower. Don't forget your hearty Texas breakfast each morning-and for those other times of day, the cabin's kitchen features a microwave, coffee pot, and fridge stocked with snacks and drinks. Indoor amenities include satellite TV, a DVD player, wireless Internet, and a library of videos available for you to check out.
The Texan Cabin at Double U Barr Ranch has everything that makes it one of the best B&B cabins for your money. Contact us at Backroads Reservations, and we'll be more than happy to hook you up with this Hill Country gem.
The Cabin
========
Queen bed
Two twin beds
Refrigerator
Regular coffee pot
Microwave
Satellite TV with DVD and Wireless Internet
Step in shower
Box air/heat
Overlooks the creek and 100 pecan trees
One other cabin on the property is also available to rent
Amenities
=============
Fully stocked kitchen and refrigerator with drinks and snacks coffee and teas
Coffee and teas
Overlooks a beautiful creek and 100 pecan trees
BBQ grills and firepits
Catch and release fishing
Paddle boat
Swimming in the creek (seasonal)
150 videos available for check out
Rockers on the front porch
Baby crib and high-chair available
Other Details
==============
The nightly rate is for 2 guests.
Children under 2 stay free
Total of 4 guests
Children Allowed
Pets Not Allowed
Extra guest fee is $25, per day, after 2 guests
No discharging of firearms, fireworks or ATVs allowed
Backroads reserves the right to increase the nightly rate and fees within 5 days of all local event announcements
Event and holiday weekends may be have a three night minimum
Hill Country river and lake water levels vary depending on rain
Approximate distance to the following sites:
===================================
Frio River: 60 miles
Medina River: 5 miles
Guadalupe River: 25 miles
Lost Maples State Natural Area: 50 miles
Garner State Park: 50 miles
Hill Country State Natural Area: 15 miles
Bandera
=============
Welcome to the Cowboy Capital of the World! With museums, rodeos, horseback riding, motorcycle rallies, and boot-scootin' live music venues, Bandera's got it all for fans of the Hill Country and the Wild West! Celebrate this uniquely American heritage, and take some time for a trip down the scenic Medina River.
Backroads Reservations
Bandera, Texas
Copyright 2022 - Backroads Reservations in Bandera, Texas
Ask us at Backroads Reservations about our Hill Country Travel Guide, the best resource for traveling to the Hill Country! Find thoroughly-researched and up-to-date information about dozens of towns, local businesses, events, parks, scenic drives, swimming holes and much more. Now on the web and mobile!
Amenities
Guest House

Hairdryer

Internet

Heating

Linens

Towels

Air Conditioning

Free Parking

Bandera

Charcoal Grill

Satellite TV

Wi-Fi

Fridge

Microwave

Toaster

Spices

Coffee Pot

Bird Watching

Photography

Walking

Fishing

Fishing Freshwater

Swimming

Tubing Water

River

Waterfront

Mountain

Children Welcome

Pets Not Allowed

Smoking Not Allowed

Wheelchair Inaccessible

Budget

Family

Romantic
What guests are saying...
"The Double U Barr ranch was a fantastic getaway. Brett and Jill were fantastic hosts, and super friendly. The breakfasts' were amazing, tasting farm fresh and a real highlight of the trip. We spent much time out on the creek tubing and fishing, and just getting away from everything. One of the best ways to relax, socially-distant-style during covid!"
Brett and Jill were the most gracious hosts! We forgot about 100 things and they were quick to provide everything we needed. We have two very rambunctious boys and they were very patient and kind to them. Brett even let the boys help him feed the deer. They were always available when we had questions or needed anything. And most importantly, BREAKFAST WAS DELICIOUS!! We very much enjoyed our change of scenery at the end of this summer- thank you Brett and Jill!!
During this pandemic my family and my self had been going crazy indoors. Jil and Brett were amazing host, I will be returning soon and will recommend to friends and loved ones. If you are looking to go to an amazing peaceful getaway this is the place. My kids had so much fun.
You can stop looking for a place to stay in Bandera because you've found THE place! It was our first visit to the area and we came to ride our motorcycle on the "Three Sisters" route. We trailered our motorcycle there and Brett & Jil's place was perfect for this as there was plenty of room for parking our pick-up truck & trailer. We stayed in the Texan cabin and it was adorable - and Texan from top to bottom down to the last detail! The decor was spot on, beds were comfortable, well-appointed with amenities (soap, shampoo, iron/ironing board, hair dryer, coffee maker, microwave, small refrigerator, satellite TV, wi-fi, magazines, etc), grills, outdoor seating, and rocking chairs on the front porch. We spent each morning and evening on the rocking chairs on the front porch watching sunrise/sunset, deer, ducks, and our hosts' dogs & cats. I'm not a sunrise kind of gal, but here it was totally worth getting up to see a Hill Country sunrise. I heard their rooster crow but only after I was already awake. The cabin is soundproof enough that I didn't hear it until I was ready ;) When we walked down by their creek one morning we were greeted by their horse and donkey. This was the first time we'd stayed at a place where the hosts serve breakfast, and we weren't sure what to expect - would it be awkward? No way! Brett & Jil are wonderful hosts, easy to talk to, and we thoroughly enjoyed our chats. And the food at breakfast - outstanding! Day 1 was eggs Benedict, cubed potatoes sauteed in butter & sea salt, and sausage patties topped with green pepper, red onion & mushrooms. Day 2 was pancakes (Brett's mom's recipe - fluffy & yummy), scrambled eggs topped with melted cheese, and sliced Alsatian sausage sauteed with red peppers and garlic. I was telling my mom about our trip along the way and sending her photos - she's ready to come along next time, stay in the Cowboy cabin, and spend most of the time sitting on the front porch watching nature. We're ready to go back for some more rest & relaxation!
Brett and Jil are fantastic hosts! I highly recommend staying with them if you are in the area. The cabin is very nice and extremely comfortable. The hosts make sure you have everything you could possibly need in the cabin before your arrival. Included is a home cooked breakfast that is out of this world. One of the highlights of our trip was visiting with Brett and Jil at breakfast. Phenomenal people, we look forward to our next visit.
James E. (Jeb)
February, 2017
This place exceeded any expectations we could have had. So glad we booked our stay here off the beaten (Website hidden by Airbnb) worth it. CLEAN, comfortable beds, nicely decorated and just an overall warm country feel. Coffee in the morning on the porch steps looking over a beautiful hill country emerald water creek and native whitetail deer grazing...rooster crowing in the distant hills. Cowboy country breakfast off eggs from chickens on property, fluffy buttermilk pancakes from host' grandmother's recipe, Alsatian sausage and potatoes, hot coffee and orange juice. Need I say more? Don't even think twice about booking this place. You will not regret it.