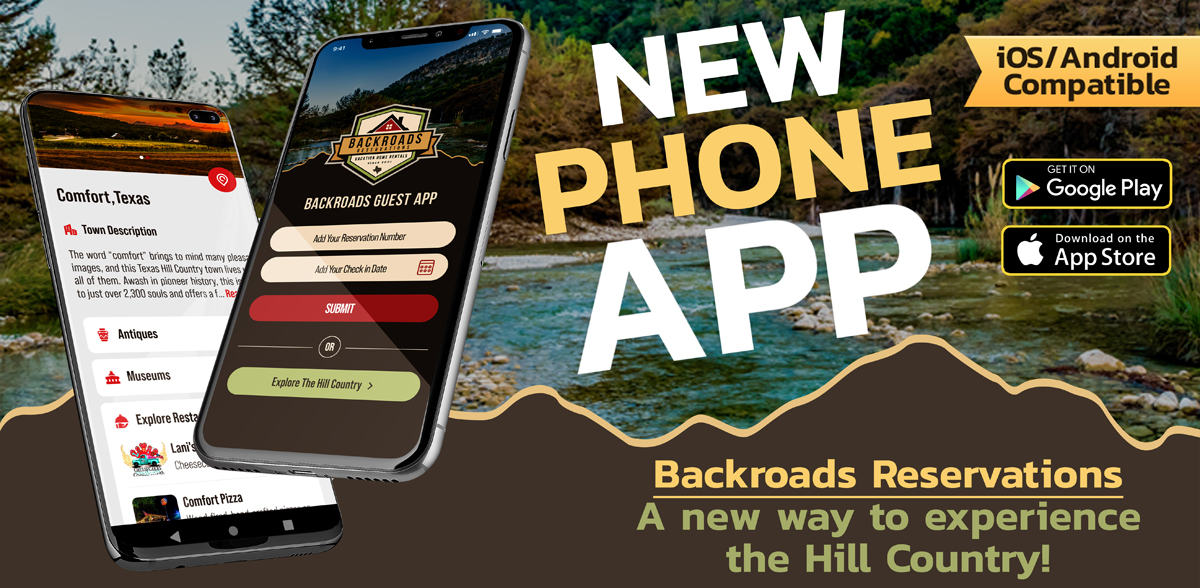 Property Type :
Amenities
Heating

Linens

Towels

Air Conditioning

Free Parking

Restaurants

Bird Watching

Photography

Scenic Drives

Sight Seeing

Walking

Waterfront

Mountain

Lake View

Lake

Pets Not Allowed

Smoking Not Allowed

Wheelchair Inaccessible

Romantic
What guests are saying...
We really enjoyed the place and the scenic setting beside the Hondo river. The house is very cozy and tastefully set up. Mary Bob and Curtis were excellent hosts and we had some fun chats about the Tarpley, the hill and the meaning of life :). Its the perfect place to stay when visiting Lost maples. Our hosts also gave us plenty of tips about the area and scenic drives you could go on.
We just can't say enough wonderful things about our stay at this property! Curtis & Mary Bob were outstanding hosts and made every part of our stay feel welcoming. There were so many special touches from the delicious homemade gingersnap cookies and fresh mint tea on our arrival to the scrumptious quiche and homemade biscuits for breakfast. This was the most peaceful place we have stayed. We loved sitting on the front porch watching the sunrise/set and taking in all of the sounds (turkeys, herons, ducks, frogs). We highly recommend this place whether your passing through or looking for a great place to relax.
The atmosphere getting to and at The Fig Preserve is peaceful, very inviting and wonderful place everyone should get to experience. Our guests Curtis and Mary Bob were extremely wonderful, it was a shame we only got to stay one night, I left wanting to know more of them and their lifestyle. We had great conversations with them and Mary Bob was kind enough to share some of her delicious recipes with us, what a wonderful couple they were. We were greeted at the door as soon as we arrived, they were very welcoming! As for the place, I am not able to describe the surge of feelings I experienced when I stepped foot on the property, gratitude, joy, happiness, thankfulness, peace, so many of these feelings and more. A touch of heaven if you ask me. I am looking forward to planning my next trip just to come and stay at this wonderful place!
Felipe Adan
November, 2016
Highly recommend. Rain or shine, an authentic beautiful location. From beginning to end and during our stay, our hosts were always there, welcoming any questions and feedback. Breakfasts, as per most of the reviews, were more than ample plus super tasty. Our private room in the house was exceptionally comfortable, with dashes of original art and wood furnishings that invoked the feeling of old Texas. Beyond that, everything was modern and well kept. The shower was fantastic, and the doors to the deck were a super plus. Sitting on the partial wrap around deck in the evenings was a delight. Electrical outlets are spread along the wall of the house outside, so one can recharge devices while sipping a drink or simply sitting watching the wild turkeys and deer. Location is great. Our hosts provided us with small maps of scenic routes with distances written in between small towns. With Garner State Park in one direction, Lost Maples another, and the densest range of Hill Country vistas I've seen yet, it'd be hard to be much more central. We look forward to a return trip next year. Though, despite favoring choosing comfortable in-house rooms, we may try the small cabin behind the main house. A younger couple staying there loved it, saying it was very private and very comforable with stove, frig, etc. All in all, much to look forward to for a return trip.