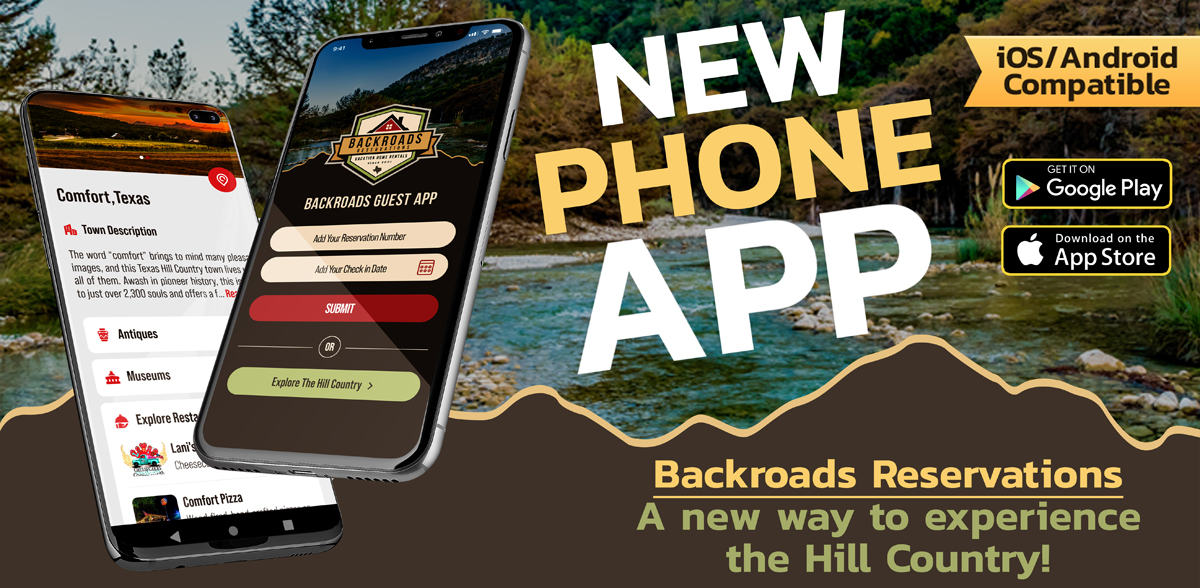 Property Type :
Amenities
Guest House

Internet

Heating

Linens

Towels

Air Conditioning

Free Parking

Restaurants

Fridge

Kitchen

Microwave

Stove

Spices

Coffee Pot

Bird Watching

Walking

Mountain

Pets Not Allowed

Smoking Not Allowed

Wheelchair Inaccessible

Romantic
What guests are saying...
Had a fantastic time at Majestic Oaks! The owners are super nice and hospitable. We loved the ranch vibes, and seeing all the animals. There's a private pool and the owners make you breakfast in the morning. Not much more you could want.
The owner's were very nice, and we loved our stay. Staying in the cabin was a great experience. Their pool area is very relaxing, and the owner made us breakfast both of the mornings we were there. If you get up in the morning, you can see them feed the horses and pet them. Their dog Molly was super sweet!
We really enjoyed our stay and will return one day! The Old House has a wonderful front porch that we used every morning to watch the sunrise, do some bird watching, and drink coffee. The house also has a screened-in porch that we really appreciated while watching a good ole' Texas thunderstorm roll in. The view of the Hill Country is spectacular, and Susie makes an awesome breakfast. Factor in miniature horses, cows, and Molly the Lab, proximity to several parks, and you just can't go wrong
This place was the perfect getaway for a few days of relaxation! Susie and Henry are extremely warm, kind, courteous hosts. They made themselves pretty scarce so we were free to use the pool and walk around, but they also checked in with us and invited us to come see the miniature horses and offered us recommendations on local spots. Just the sweetest couple! Susie also brought us breakfast every day - French toast, quiche, etc. - and they were all SO DELICIOUS! Will definitely try to recreate her recipes, and it was a lovely touch that everything was homemade. The space was very clean and cozy, with a TV and decent wifi for the area (not lightning fast, but we were able to stream movies without an issue), and the bed was very comfortable with fresh sheets. There were also plenty of blankets and clean towels, including pool towels. Make sure to bring your own large bowls and pans if you plan to do major cooking, but Susie made it clear that we were free to ask her for anything we needed. There is also a gas grill outside that was perfect for grilling meat and s'mores, a Keurig coffee machine, and basics (plates, cereal bowls, salt and pepper, silverware, small pots, large spoons, etc.). We loved going to the state parks nearby -- such beautiful scenery. The drives themselves were wonderful, too. We also loved just sitting by the pool (which was also very clean) and relaxing, or on the front porch in the rocking chairs with a book and their sweet dog Molly cuddling at our feet. The miniature horses were also adorable, and Susie invited us out to feed them with her. There were also gardens and fruit trees around the property, which just added to the scenery. The property was so quiet and peaceful - highly recommend for anyone needing a few days of relaxation and calming! And again, couldn't imagine a better host couple! :)
We connected very well with Susie and Henry (and their pets, Molly and Sophie!) and had such a fun time on the farm. The miniature horses are so friendly, and the whole place is so relaxing. We loved our weekend in Tarpley!
The Majestic Oaks Farm is a peaceful place that allows you to get away from the hustle and bustle of city life, as well as, reconnect with your significant other or nature. It allows you to focus on the simplicity of life and relax. What else is a plus? The miniature horses each have their own personalities; our hosts Henry and Susie were great; the light breakfast was delicious; the pool was refreshing; and the Red Cottage was clean and inviting! We plan to return in the fall!
View More...