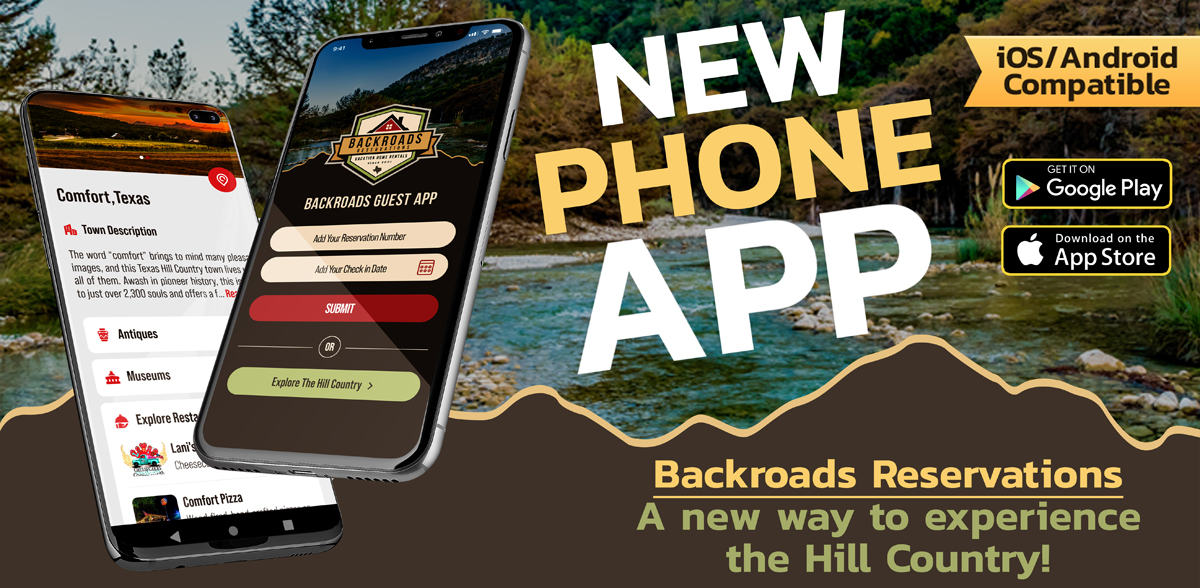 Property Type :
Amenities
Guest House

Internet

Heating

Linens

Living Room

Towels

Free Parking

Queen Size Bed

Cell Coverage

Charcoal Grill

Satellite TV

Fridge

Kitchen

Microwave

Stove

Toaster

Spices

Coffee Pot

Photography

Walking

Fishing

River

Mountain

Children Welcome

Pets Not Allowed

Smoking Not Allowed

Budget

Romantic
What guests are saying...
Great spot in the hill country, cabin was cute. Only down side is that we had assumed it was very private, and it wasn't as solitary as we would have liked. The owner chuck lives behind the property, which isn't at all a problem because he's so nice and helpful. We went looking for the cave, and probably hiked for about three miles and couldn't find it. We loved the gorgeous hill country stars at night! The river swimming area is near the entrance when we drive in, so definitely have to go drive back. Overall a great stay, and we would return.
The place is very easy to find. About two miles away from the closest town. The cabin was exactly what was pictured, everything was clean and ready for our stay. The host went above and beyond to welcome us and made sure we were doing good throughout the trip. He even offered us a ride to help feed the goats and the took us on a ride on his golfcart through the mountain, where he showed us his favorite spot to look at the sunset. Furthermore, although the Rivera river is very dry we were able to find a good spot to swim in. Overall our experience was very great and relaxing. Would definitely come back!!
Jenny and Scott
September, 2017
We had a great time on Weber Ranch. The manager was very helpful, and kind enough to give the kids a tour of the property. It's beautiful peacefyl country, full of all sorts animals: cattle, goats, fish and deer. The cabin is rustic, but well-equipped with comfy beds and a sweet porch, a perfect mix of roughing it and relaxing. We'll be back.
Our Weber Ranch experience was phenomenal. We fished the ponds, went down to the river that has crystal blue water, we were able to see the bass and catfish swimming right next to us. We Kayaked as far as we could. We had a BBQ and made two bonfires the two nights we stayed. We saw plenty of deer and cows, the inside of the cabin was so nice and clean. We climbed up the hill and went into the cave. I recommend bringing a flashlight! Mr. Weber even took us around on his go-cart to feed his goats. Awesome experience that we will always cherish. I expect we will be frequent visitors.